Install Datastream for Excel
Datastream is now accessible from Microsoft Excel. Here is the step:
Download the Datastream app from UiTM Library here:
https://iknow.library.uitm.edu.my/50/
Extract the Compressed file using any compress app - 7zip, Winzip, WinRar or simply right-click the file, select Extract All > Choose destination (Optional) > Click Button Extract.
There are several apps to install, however, some new machine already includes the app. Therefore, user may install:
- 3.1 vstore4.0_64.exe
- 4.1 Datastream DFO Add-In Setup.exe
Open Microsoft Excel to check Thomson Reuters Datastream tab.
Login Datastream in Microsoft Excel
After installation, the user may access Datastream from Microsoft Excel.
Open Microsoft Excel.
Go to Thomson Reuters Dastream
Click Options

Click the Connection Setting tab.
Insert the user id and password as provided by the librarian.

The Offline indicator in red will turn green (Online) for successful login.

Users may notice this message when accessing DFO Navigator (after you click Static, Time Series Request)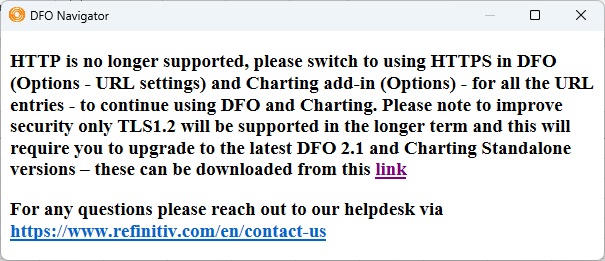 Fix it by adding HTTPS on all URLs in Request URL Settings here
Go to Thomson Reuters Datastream
Click Options

Click the Request URL Settings tab.
Change all http to https

Click OK
Run Static / Time Series Request again
Data is now available from Eikon. Users may install Eikon and add-on Datastream. Eikon user ID is used to access both.
From Refinitiv Eikon
Click sign-in & download button.

Login to Refinitiv Eikon
Tick I accept for software license and click Accept button.
Choose country.
Run the installer.
Open Microsoft Excel. Refinitiv Eikon is available in the tab menu.
Click Sign In. Login to Eikon
*ask the librarian for credential information with Chat with Librarian
Click Add-Ons
Enable / Install Datastream and Datastream Charting

Check Microsoft Excel, a new tab menu - Refinitiv Eikon Datastream is enabled.